SchemBAT Octopus for Home Automation
Introduction
New buildings and renovation (homes or offices), integrate more and more automation network. SchemBAT Octopus owns dedicated solutions for the realisation and implementation of these new technologies. The function are user-friendly and easy to use.
---
Purpose of the home automation
These home networks provide comfort, flexibility, and energy saving by advanced management :
- Air conditioning and heating
- Lightning
- Access and security

The centralized control of the installation is done from a PC, tablet, smartphone locally or remotely via a web connection.
---
General principle
The network system supplies the controls (switches, temperature sensor, intrusion detector, fire) and transmits orders to the controller installed in the electrical panel (no conventional wiring).
The controllers are connected to the bus and to the electrical elements (lamps, panel, plug socket, heating, ventilation) to order.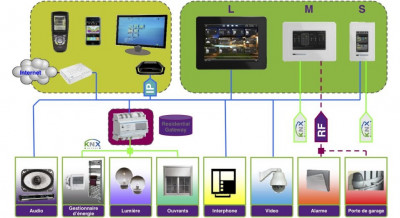 A dedicated program affects the functions to the controls regardless of the wiring.
---
SchemBAT for home automation
SchemBAT Octopus software assists you in the quote, study and manufacture of home automation octopus. Both using the multi-manufacturer standard KNX or the standard MyHomeTM of LegrandTM :
- Integration of the architectural drawing,AutocadTM file, scanned picture
- Insertion of electrical elements
- Bus / Network wiring
- Extraction of lists and manufacturing datasheets